"Kallyas Cargo is exactly what our business has been lacking. I would like to personally thank you for your outstanding services."

Marry M. Keller

"I love your system. Definitely worth the investment. I don't know what else to say."

Darren Lawrence
LEGEND
ECU Remapping
DPF Serices
Diagnostics
WHO WE ARE
Nick Howard started apprenticeship at a Renault main dealer to complete city in guilds. While at Renault went on dealer training courses then moved onto Peugeot to become a master technician and assistant workshop foreman. Dealing with engine diagnostics /wiring faults, at this time engine management systems were starting to fully electronic then moving on to ecu chip changing which then went a step further to ecu flashing of new software.
Then moved on to Honda dealership which after a year became a Citroen dealership. As like Peugeot went on many training courses to become a diagnostic technician carrying out many diagnostic / electrical jobs. Other jobs involved gearbox rebuilds, engine rebuilds, etc.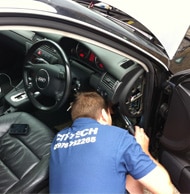 About CIT-TECH
After my time at Citroen I went on to an independent Ferrari garage working on many exotic super cars such as: Ferrari, Lamborghini, Porsche, Maserati performing from a basic 3 day service to fault finding. After this time spent there I needed a new challenge of starting my own business so in 2004 I started CIT-TECH Diagnostics and still here today. I have invested a large sum of money in diagnostic fault finding tools:

Peugeot diag 2000 (to do earlier models)
Citroen lexia 2
Citroen tep
Peugeot / Citroën diag box (new dealer tool)
Renault clip (dealer tool)
Carman scan for all Asian models
Vcds for all VW, Audi, Skoda, Seat
Dec ss very powerful dealer level tool for most European cars to code new ECUs, keys etc
Vaux-com
Texa txt which covers many vehicles
5 key coding machines (pin code reading for vag)
Ford coded access
Peugeot /vCitroën / Renault immobiliser codes for a charge but proof of car id and ownership is needed

I started remapping vehicles in 2008 for better mpg and performance, using one of the top tuning tools dimsport genius.

And now using the latest remapping tool kess v2 which will cover most of the hardest ECUs to remap. We now have 3 remaps a green mpg map, blue mpg/torque and red map performance map.